Reviews and Thoughts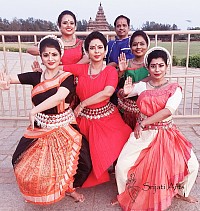 What Do Our Students Say
Student Reviews
What our students say about our classes. 
She is a brilliant dancer and a teacher. She focuses on the technical basics of the Odissi dance form while teaching. She is also very observant of the students' postures and corrects them for every fine details. She is also very patient and clarifies doubts clearly. Even while attending online class it feels like attending physical classrooms... Chumki Chowdhury.
One learns to appreciate the joy of dancing when Guru Srinwanti teaches. She is patient and dedicated, and at no point in the learning process will a student feel inadequate and helpless. She brings out the best in students.... Lakshmi Bala.
Check more on our Google Reviews with Srijati Arts. 
From being a non dancer to starting to learn dance in my 30s, Srinwanti Ma'am has been very patient in teaching the steps at a pace that everyone can follow. She makes it a point to pin point mistakes and correct them. Learning Odissi online from Srinwanti Ma'am is fun and I eagerly look forward to every Saturday to a fun hour of dancing... Janaki Subramanian.
Srinwanti is a dedicated teacher, my spirits rise with every class. Very professional! I love her odissi classes, I had a regular class in Vienna and now could go on practising online! It's working great that way! ... Isabel.
Students Reviews
As an avid Odissi enthousiast, I have been following the productions of Srijati Arts for a long time now and I have had the pleasure of taking both in-person as well as long-distance classes at this school. The quality of teaching is maybe only surpassed by the warmth that Srinwanti has for her students -- I thoroughly enjoy each and every class. The technology integration and necessary expertise that makes an online dance school possible is impeccable. If you love Odissi, you must try this dance school!... Lena Kaye . 
A true proof of love to the Art of Odissi ♥️... Sofia A. G.
I fall in love with Odissi Dance only because of my Guru Maa Srinwanti ji. What sets her apart from other teachers I encountered in different walks of life is her "mother soul". With her warmth, compassion, patience, and focused attention I had the courage not only to master the technical aspect of this ancient classical dance form but falling in deeper love each day. One needs to experience her "profound presence" as a true mentor only by becoming a part of her dancing tribe. Pranaam! ... Sharmistha Guha Majumdar.
Excellent teacher faithful to the practise of Odissi. All in grace and majesty, she conveys to her students her passion and involvement for this art during or whenever class starts.
Thank you again for introducing Odissi to me and for your teaching.
Whenever you come in Paris (France) , I'll come. ... Judith Bernis.
I'm loving every bit of each class. I feel that it is much more than learning an art form. Ms. Srinwanti Chakrabarti, is one of the best teacher's one could ever have. The teacher is highly knowledgeable of the intricacies of the movements being taught and takes the training to a higher level and quality. Also, the online classes have come as a blessing for learners like me who do not have easy access to a high quality dance school amidst a working schedule... Amritha John.
Ms.Srinwanti is a wonderful teacher with an amazing level of patience and dedication. She is thoroughly professional and pays attention to detail to bring out the best in her students. It is such a joyful experience learning the beautiful danceform of odissi from her... Sandhya Balasubramanian.
There is a heavy concentration on the basics and perfection as Srinwanti mam is not less than a perfectionist. There is no compromise on quality, which, in turn sets a very high standard of performance. Also, as a teacher, Srinwanti mam is very experienced and knows how to bring out the best from her students. I would recommend this place to anyone who wants to learn Odissi in its purest form ... Aashita Burman. 
Srinwanti's method of teaching is an inclusive learning. She's teaching a 50+ with no dance background. As a mother and daughter duo we attend her classes.I look forward to attending more.
Thank you Srinwanti! ... Andaja Pantalu.
I never had a dance training, but always loved this form of art.... Finally i took a lot of effort to push myself and give it a chance.. it would not have been possible if it was not an online class..... I never thought that I would love the class so much.. Srinwanti madam is just wonderful- in terms of her way of teaching, professionalism, and her thorough knowledge on the subject. She understands each student's constraints and allows them to dance comfortably. This increased my interest since I don't have to overstress my body. I would love to continue dancing with Srinwanti madam as long as my body permits. Thanks. ... Jaya Chowdhury.
I am learning Odissi from Sriwanti Madam for the past 6 months. Very dedicated and focussed. More energy is spent by the teacher in inculcating the basics of Odissi. I feel as if am learning class directly even though it is conducted online. Thani. ... Thanikavel Kuppuraj.

Best teacher ever! She is an epitome of patience, especially when dealing with non dancers like me. She breaks complex steps into simple stages that anyone can grasp easily.
Wish to be like her one day. ... Sukriti Jha.